Minister for Housing

The Honourable Meaghan Scanlon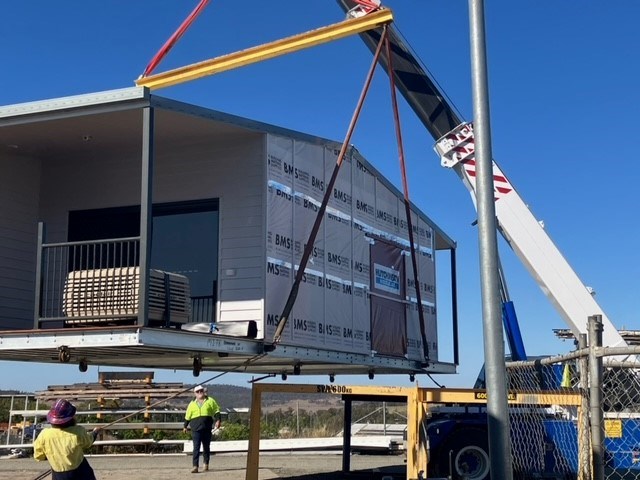 Link to vision and grabs: https://tinyurl.com/4sd7r2xp
Another two modular homes are destined for Longreach
The homes have travelled more than 1,000km from the factory in Toowoomba
It joins six pre-fabricated homes delivered earlier this year
The Palaszczuk Government is rolling out dozens of pre-fabricated homes for regional Queensland – including two more for Longreach - as part of its record investment in social housing.
Hutchinson Builders have been contracted to build 29 modular homes from their Toowoomba factory, for communities including Longreach, Roma, Cunnamulla, Maryborough, South Gladstone and Hughenden.
Four more homes are being delivered this week, including two homes for Longreach and two for Hughenden.
Homes were delivered last month, including three homes in Roma and two homes in Cunnamulla.
More homes will be completed and trucked to regional areas in October, including six homes for South Gladstone, two for Hughenden, two for Churchill and another four for Cunnamulla.
The remaining six homes are planned to be delivered next month.
It's part of a record $5 billion for social and affordable homes – the largest concentrated investment in Queensland's history – to help deliver 13,500 homes.
Quotes attributable to Minister for Housing Meaghan Scanlon:
"Since 2015, we've delivered on average more than 10 homes per week – and we're doing more with a record investment and initiatives like this to get more homes off the ground.
"Building a pre-fabricated takes a fraction of the time it would take to build a home from the ground up, especially in regional communities.
"Modular homes are particularly beneficial for regional areas in Queensland, where construction costs can be higher and construction timeframes longer.
"It means a family, a couple, a person living with a disability or otherwise can have a safe place to call home sooner.
"In addition to the pipeline of traditional social housing being delivered through our $5 billion investment, we're also looking at innovative ways to build homes faster for Queenslanders in need."
ENDS
Media contact: Francis Dela Cruz - 0420 592 078